Now available to purchase or lease, speak to an expert
KTEvolution - Advanced passive temperature controlled solution offering protection visibility and security in a small box
KTEvolution is the Ultimate Passive Temperature-Controlled Container Solution for High-Value Life Science and Pharmaceutical Products.
A passive container solution designed specifically for the transportation of sensitive life science and pharmaceutical goods that demand a consistently stable temperature-controlled environment. With the utilization of advanced phase-change technology, the KTEvolution empowers you with unparalleled flexibility and reliability throughout your supply chain, all without the need for external power or human intervention.
Protection, security, visibility in a small box
The external hard shell and design provide enhanced product safeguarding against shocks, vibrations, and environmental hazards, making it an optimal choice for ensuring secure last-mile deliveries.
Uninterrupted protection for over 120 hours, regardless of temperature variations. Subjected to rigorous testing according to the ISTA 7D methodology, conducted in triplicate for utmost accuracy and confidence.
Consistently delivers exceptional performance, maintaining the same level of excellence with every shipment. It is designed to withstand the rigors of multiple uses without compromising its effectiveness.
Seamlessly integrates with advanced IoT solutions, offering a comprehensive range of integrated features specifically designed for location tracking, temperature monitoring, as well as shock and impact detection.
Easy to use, easy to move, the KTEvolution offers a portable temperature-controlled solution without dry-ice. Fully customizable with phase change technology and Vacuum Insulating Panels (VIP).
Offers a fully reusable solution, delivering substantial environmental benefits compared to disposable and semi-reusable systems. Eliminates the need for external power or human intervention.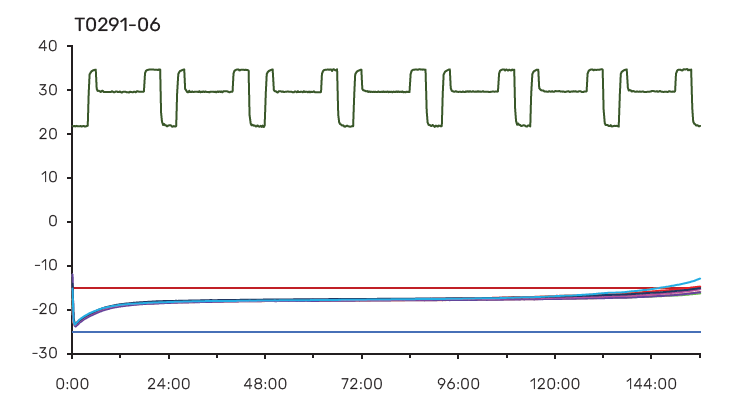 Qualification Summary Report Key Features:
Qualification against

summer and winter profiles
Sensor positions
ISTA 7D methodology
Key product features
Why the KTEvolution from Tower Cold Chain?
Easy to use, easy to move

and fully tailorable to meet temperature, weight, and duration requirements
Passive temperature-controlled containers using phase change technology
Customisable for temperatures as low as -80°C and as high as +40°C
Includes integrated data and communication features for additional security

to ensure product integrity and efficiency
Available in 26 litres

and 57 litres, the KTEvolution range is a

manually handleable

and easy to sterilise cold chain

solution
Robust, Reliable and Reusable solution
"Weatherproof time and time again, visible data logger key differentiator from other solutions in the same size range. Tower are very reliable and have been valuable supplier for us for 20 years. Customer service is excellent too. Would highly recommend."